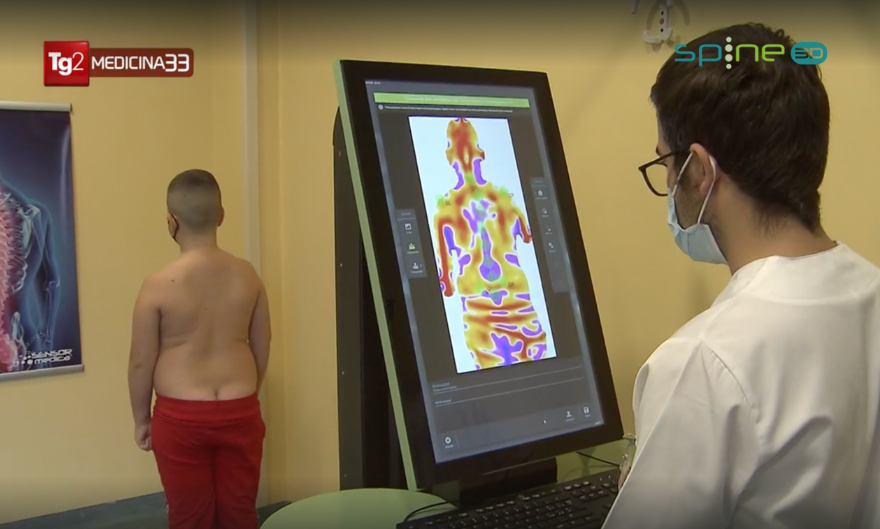 Spine 3d is on 'Medicina 33' (Rai News – Tg2)
November 10, 2022
0 Comments
Within this section of the site, we are concerned with providing you with useful information for your health. Those who have already moved through the pages of our blog will have noticed the informative, wellness-oriented intent of the articles we offer. This is because Spine 3d was created with an innovative principle that looks first and foremost at the patient's wellbeing, at the possibility of carrying out checks that do not further affect the patient's health.
Today, however, we have the pleasure of showing you a contribution that was aired on 8 November on the TV programme Medicina 33 (on the Rai News channel – Tg2), not only for the satisfaction of seeing our work recognised as highly professional, but precisely because more than a thousand words, the images and the explanation of a professional are able to give the measure of what the Sensor Medica technology of the Spine 3d device represents today in the world of medical diagnosis.

At this link you can see the episode dedicated to our Spine 3d, within the container edited by Laura Berti, who immediately presents our analysis system thanks to a report by Andrea Martino. The explanation of the effectiveness and usefulness of Spine 3d is entrusted to the words of Dr. Luca Marin, of the Laboratory of Adapted Motor Activities (LAMA) of the University of Pavia.
Spine 3d "exploits a latest-generation technology that, compared to previous ones […] allows the assessments to be made first of all in daylight […] and then it also exploits the artificial intelligence part, which by the way we are developing with a couple of university works, and this makes the machine itself learn while working." The interesting thing, Dr Marin continues to explain, is the possibility of using Spine 3d in conjunction with a stabilometric platform and thus doing a posture assessment at the same time.